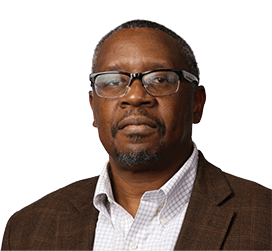 Vice President, Clinical Development
Dr. Moyo provides strategic clinical leadership and supports Actuate clinical activities.   Victor is a graduate of the University of Zimbabwe School of Medicine. He completed his internal medicine residency training at the George Washington University Hospital and his fellowship training in Hematology / Oncology at The Johns Hopkins Hospital. He was previously an Assistant Professor of Medicine at the University of Connecticut Health Center.  Dr. Moyo's core clinical development expertise includes design, implementation, and analysis of Phase I-IV oncology studies. His regulatory experience includes Pre-IND/IND, End of Phase 1 and 2, NDA submissions. Dr. Moyo is also a named inventor on numerous patents.
Prior to joining Actuate, Dr. Moyo served in roles of increasing responsibility at Ortho-Biotech (JNJ/Janssen), Merrimack Pharmaceuticals, L.E.A.F. Pharmaceuticals and LEAF4Life Inc. Most recently, he served as Executive Vice President, Chief Medical Officer, and Head of R&D for the LEAF family of companies, where he helped establish a team and oversaw strategy for research and development efforts. He currently also serves as the Chief Medical Officer for OncoPep Inc.
At Merrimack, he worked on multiple programs, including the design and implementation of the clinical development strategy that ultimately led to the approval of Onyvide® in metastatic pancreatic cancer.  Dr. Moyo also recently helped to develop LEAF-4L6715, which has been granted compassionate access in France for patients with critical COVID-19 on a ventilator.